In return for my love they are my accusers, but I give myself to prayer. Psalm 109:4
REFERENCE
David is saying here that prayer is the only fitting response when all hell breaks loose, when relationships turn sour and hatred and spite are returned for love; when men scheme and plot against you and it seems you know not the next step to take, or when things are contrary to what you have expected. Prayer will bring God in and bring you out of every bad situation, it will bring light for direction on a dark night, it will unfold every evil plot, so that your feet may not be caught in a net, and it will give you victory at the end of the day.
Charles Spurgeon said, "Prayer is the believer's weapons of war. When the battle is too hard for us, we call in our great Ally, who, as it were, lies in ambush until faith gives the signal by crying out, "Arise, O Lord.""  Also, John Wesley said, "It appears as if God will do nothing until men pray." As a believer, therefore, you must give yourself to prayer because your prayers give God the legal right to come and act on your behalf in the earth realm. It says to God that you depend on Him, and it causes Him to step in to your affairs. It binds the enemy and puts the enemy's army in disarray. It readjusts and realigns things in the realm of the Spirit, activating angels and dealing with every matter at its roots.
History points us to believers who were known to make decrees which stood, reversed verdicts, established favorable patterns, set spiritual boundaries and enforced God's kingdom in their spheres of influence through their prayers.
The language of prayer is a universal password for every door you encounter. It is the power that brings stubborn gatekeepers to their knees and makes them open the doors against their will, it is what will make men help you without knowing you and bless you without liking you. It is dynamic in its workings. It cuts here and there (like a double-edged sword) and everything answers to it.
Prayer is not weakness! In the place of prayer, Divinity shakes hands with humanity. There is no time that we are stronger than when we are praying. Even the devil fears the weakest saint when he is on his knees, which is why he brings all sorts of distraction to ensure that you don't pay attention to prayer or give time to it. But you, child of God, must be wise…you ought to pray always and not lose heart.
SCRIPTURE PHOTO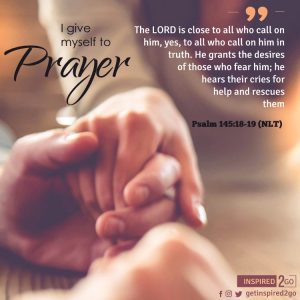 ADDITIONAL STUDY
Psalm 145:18-19 (NLT), James 5:13-18 & Philippians 4:6
PRAYER POINT
Thank God for the privilege of prayer and the victory of prayer that He has given you. Enforce answers to prayers uttered in the past, by adding thanksgiving today.