O Lord, You are the portion of my inheritance and my cup; You maintain my lot. The lines have fallen to me in pleasant places; yes, I have a good inheritance. Psalm 16:5-6
REFERENCE
Psalm 16:1-6
The Prophet Habakkuk said: "The Lord God is my strength; He will make my feet like deer's feet, and He will make me walk on my high hills," (Habakkuk 3:19). It is God's plan for us to be high fliers in life; to rise to the top and stay there; He wants us to be the head and not the tail. Hallelujah! The lines have enclosed places of elevation for us, as part of our inheritance!
High places represent promotion, headship, leadership, honor and prominence. Jesus described believers as the light of the world, a city set on hill that cannot be hidden. This means, we should be outstanding in our spheres of influence and chosen career paths. God's purpose is for us to stand out, and not to inherit the obscure places of the earth; i.e., born in a corner, live in a corner, and die in a corner. Nobody lights a lamp and puts it under a basket, but sets it on a lampstand for all to see. We have been set to be at the mountaintop for all to see, we must not settle for the bottom (Matthew 5:14-15).
In 1975, Bill Bright and Loren Cunningham developed what they called the seven mountains (or pillars) of societal influence. They are: Government, Media, Arts and entertainment, Education, Religion, Family and Business. If you check what you do or your status in life, you will discover that you are on one or more of these mountains. It is God's plan for you to rise to the peek, because those who are at the top influence everything. God wants you to be an influencer that is why He included mountaintops in your inheritance.
Usually, the devil contends for mountain tops, getting there is not easy because there are powers and forces that fight to maintain and protect the mountaintop. Therefore, you need to position yourself and be ready to do what it takes to possess your mountaintop – be like Caleb who said, "Give me this mountain that the Lord spoke to me about…" So, work for it, study for it, prepare for it, and pray for it. Mountaintops are not freely given, they are taken! No wonder the bible instructs us to pull down strongholds and high things that want to exalt themselves above the knowledge of Christ in our lives…it's because there are often powers and forces who want to stay at the top, and keep us down.
The mountain is yours for the taking, go and possess it!
SCRIPTURE PHOTO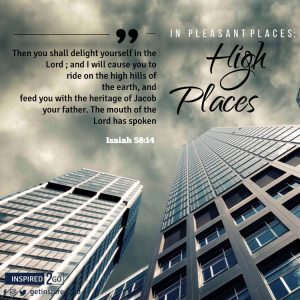 ADDITIONAL STUDY
Isaiah 58:14, Joshua 14:12-14 & I Corinthians 10:4-5
  PRAYER POINTS
+ Come against any force that contends with you for the mountain tops that God has allotted to you as your inheritance; declare that their weapons are null and void in your life.
+ Pray for wisdom to be rightly positioned, and strength to reach out in faith to possess the high places God has graciously given to you.