By faith Sarah herself also received strength to conceive seed, and she bore a child when she was past the age, because she judged Him faithful who had promised. – Hebrews 11:11
REFERENCE
Hebrews 11:8-12
Quite often, as the year draws to a close, many people pray to have 24-hour miracles or 11th hour miracles, but God is not tied to our calendar and just because something hasn't happened within a 'specified' time does not mean it will not happen. It is more important that we develop faith in God's person than in what He can do or what we want Him to do for us. It is more important to Him that we know His person more than His power; that we trust His character more than his provision, because He rather wants an intimate relationship with us.
Much of our agitation, exhaustion, depression or frustration over what should be but hasn't been, comes from the fact that we do not know His person like we should. We worry; we are anxious and in fact, go from prayer place to prayer place, all because we do not understand our God. But when we come to the point of knowing God – His Person, not for what He can do, but for whom He is, our expectations will come to us speedily.
This was the point Sarah came to, where she judged God faithful who had promised. She believed in the character of the Promiser more than in the content of the promise. She considered Him a dependable God – she moved from wanting a son to knowing her Savior. She must have prayed and prayed before then. She must have done all she could, but a point came, she changed her focus and chose to credit God with faithfulness, not based on whether He answered her or not, but based on His personal integrity, goodness, and creditworthiness.
To be faithful is – to be steadfast in affection or allegiance. It is to be constant, dedicated and loyal. This was Sarah's judgment about God and it became the foundation for her faith. She anchored her faith on the promise, but more importantly, on the Character of the Promiser. A promise is as good as nothing if the character of the promiser is in question. The 'weight' of a person gives weight to his words.
What stands between you and where you want to go is the conclusions you draw about God. So, do you truly know the character of God? Do you think he is duty-bound to do the things He has promised to do in your life? What are you presently anchoring your faith on? What do you say about the God who promised you? How do you judge God?
PHOTO QUOTE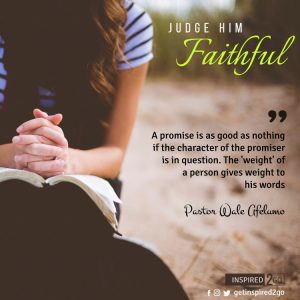 ADDITIONAL STUDY
Numbers 23:19, Jeremiah 9:23-24 & Hebrews 10:23
PRAYER POINTS
+ Thank God for preservation; for bringing you to this season of the year.
+ Repent of and ask God to free your heart of every agitation, frustration, depression, etc., all arising from deadlines you set for God; and profess to God that He matters to you more than anything you would ever want.