The place was called the Valley of Eshcol, because of the cluster which the men of Israel cut down there. And they returned from spying out the land after forty days. Numbers 13:24-25
REFERENCE
Numbers 13:1-3, & 21-30
"How tall does a sycamore tree grow? If you cut it down, you will never know." This line is from the song: The Colors of the Wind, in the popular children's cartoon, 'Pocahontas.' It gives a clear picture of today's study. If you give up or quit without getting to where God is taking you, you will miss the opportunity to see all what God can do and/or become in your life. As ascertained from yesterday's devotional, God wants you to keep your hope alive and He has given you clusters of blessings to show you that there is an orchard of blessings in your future to help you stay hopeful.
Your testimony will be cut short if you decide to quit hoping on God's promises that are yet to materialize in your life. Hebrews 6:12 admonishes us to imitate those who through faith and patience obtained God's promises in their lives. So, you need to stay in faith and be patient with God in order to get from your clusters to your orchards.
Notice in this account that the Israelites were still in the wilderness when the 12 spies returned with the cluster of grapes; it took them 40 days to get the cluster of grapes back to the 'waiting' Israelites. Hence, things may be tough and dry around you, but, in spite of where you are, thank God for your clusters and persevere like Caleb and Joshua who through faith and patience obtained their promise (entered the Promise Land). Time may pass but you must keep believing that your clusters will become orchards someday.
The other 10 spies didn't enter the Promised Land eventually because they didn't believe – they couldn't see the orchards through the clusters before them. They complained and doubted, their eyes were focused on the giants guarding the orchards. Similarly, on your way from your clusters to your orchards there might be giants on the way; however, understand this: wherever there are giants, there is an 'orchard' they are guarding…there are goodies to be had there, so don't despair. Your giants may include discouragement, dissenting voices, setbacks, fear, sin, etc., but God is on your side and He will give you the victory.
So, stand up and forge ahead; don't be intimidated by delays or giants. Rise and contend with them, display a violence of faith, don't quit! You will get from clusters to orchards (abundance) in Jesus' name.
SCRIPTURE PHOTO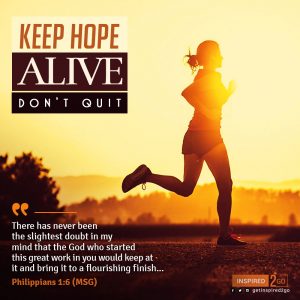 ADDITIONAL STUDY
Numbers 14:30-38, Isaiah 66:9, & Philippians 1:6(MSG)
CONFESSION
I declare that God will move me from my clusters to my orchards. Greater things are ahead of me. The little shall become big; the small shall become great in my life. I contend with every giant occupying or holding onto my inheritance. I dislodge and overthrow them now in Jesus' name.