"Moreover if your brother sins against you, go and tell him his fault between you and him alone. If he hears you, you have gained your brother. ~ Matthew 18:15
REFERENCE
Matthew 18:15-17
Conflict is a part of life but if not properly managed, it can break marriages, destroy organizations, strain relationships, cause strife in families, promote rivalry amongst peers, create disunity in communities, in churches, etc.
Conflict is the process by which parties with differing wishes or opinions (each believing that the other party will act or is acting against them) engage in behaviors 'that seek' to damage the other party. It is a strong disagreement between people that often results in fierce arguments. As humans, we are social (relational) beings; therefore, we must learn to live amicably with others in the spaces we find ourselves – marriage, organization, family, business, school, church, society, etc. Where more than one person occupies a space, there is bound to be conflict; however, it needs to be managed properly and not to be avoided because any relationship that hasn't gone through conflict has never had a chance to grow.
There are many causes of conflict. The bible reveals many examples of conflict situations and the resultant effects. Cain killed his brother Abel due to jealousy; Abraham and Lot got separated because of stiff competition over land. Sarah dealt harshly with her maidservant (Hagar) and literally sent her packing because she felt disrespected. Absalom tried to overthrow his father David from his throne because of selfish ambition etc. (see Genesis 4:1-8, 13:5-9, 16 1-6 & II Samuel 15:1-14).
Conflicts arise for various reasons – competition for the same resources or for the same positions in an organization, feelings of marginalization in a family, differences of opinion and belief in a relationship, etc. Generally, conflicts of all kinds frequently arise when people feel threatened; regardless of whether the threat is real. Self-preservation kicks in and shuts down reason.
However, as believers we must refuse anything that would make us act irrationally in conflict situations. In our text, Jesus shows one of the simplest steps to resolving conflicts – deal with it headlong, pursue peace, resolution and reconciliation. Conflicts left unresolved give room for Satan to destroy much good. But when properly managed, we can get the best outcomes in our relationships and dealings with others. In subsequent episodes this week, we will look at practical ways to manage and resolve conflicts.
PHOTO QUOTE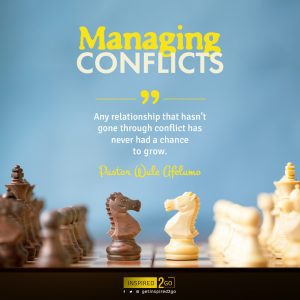 ADDITIONAL STUDY
Proverbs 18:19, James 3:16 & Hebrews 12:14
PRAYER POINT
Ask for grace to pursue peace with all men, and for wisdom to know how to effectively manage conflicts so they don't degenerate to feuds.