"There is a lad who has five barley loaves and two small fish, but what are they among so many?" And Jesus took the loaves, and when He had given thanks He distributed them to the disciples, and the disciples to those sitting down; and likewise of the fish, as much as they wanted. John 6:9&11
REFERENCE
John 6:4-13
Like Andrew, the disciple who popped the question of what five loaves and two small fish could do in a crowd of so many people, you also face times when you need a major miracle of provision to happen in your life, but what you see around you seems too small to even compare to the size of your need. So, you wonder and sometimes fuss about how near impossible it is for your little resource to take care of your many bills.
Nevertheless, that is not the case with Jesus; He only needs to see that little, or just a ray of hope to work miracles. When confronted with the same situation of not having enough to meet His need, all Jesus did was to give thanks to God because He knew that His thanksgiving would activate God's power of multiplication. He understood the power of gratitude; that it says to God that you do not despise the little you have, that you know that the little you have came from Him, that you may have had nothing in the first place and also that the same power that provided the little, can provide much more. It expresses trust in an all-powerful God.
Psalm 67: 5-6 says, "Let the peoples praise You, O God; let all the peoples praise You. Then the earth shall yield her increase; God, our own God, shall bless us." This passage further gives credence to the truth that, thanking God releases His power for multiplication (increase) in our lives.
Therefore, the right response to not having enough to meet your needs is not to run from pillar to post or to worry yourself sick. Rather, it is to thank God for what seems insignificant in your hands; thank Him for making up the difference and thank Him for supplying your needs according to His riches in glory by Christ Jesus, not according to what you have.
Thanking God shows your faith is deep-rooted in His Word and that you trust Him; also, it keeps you free from the burden that comes with worry. Similarly, when you thank God, you are watering the seed of prayer you have already made concerning your need; and when the heavens are filled with your thanksgiving, they definitely will pour out increase on your behalf.
PHOTO QUOTE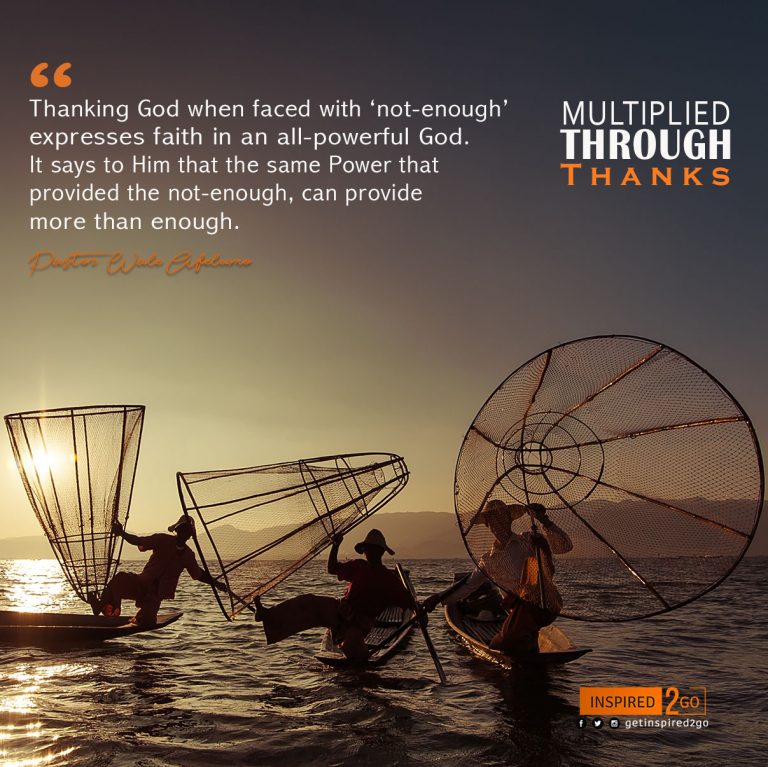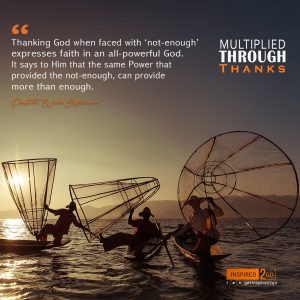 ADDITIONAL STUDY
Romans 4:18-22, Philippians 4:19, & I Thessalonians 5:18
PRAYER POINTS
+ Thank God for all His many benefits in your life – a loving relationship with Him, good health, divine protection & provisions, a wholesome family, great friends, a job/business, etc.
+ Thank God for the resources you currently possess, no matter how little you may think it is. Thank Him for making up the difference and supplying your needs according to His riches in glory by Christ Jesus.