Again He said to me, "Prophesy to these bones, and say to them, 'O dry bones, hear the word of the Lord! Thus says the Lord God to these bones: "Surely I will cause breath to enter into you, and you shall live. – Ezekiel 37:4-5
REFERENCE
Ezekiel 37:1-10
Ezekiel in this passage was placed in a valley of dry bones; dryness connotes something that is drained, withered, patched, and in this instance, an impossible situation. When God asked Ezekiel if the bones could live again, he said, "Oh Lord God You know." In other words, this situation needs a miracle and only You can make it happen.
The moment Ezekiel realized the impossibility of the situation, he looked to God; and the medicine God proffered, started with PROPHESY! To prophesy means saying what will happen in the future. In this case, the instruction was, "Prophesy to these bones, and say to them, 'O dry bones, hear the word of the Lord!'" This makes us understand that anything and any situation can hear and respond to the Word of God.
The miracle Ezekiel needed for these dry bones to live again came from the Word of God. In the same way, the miracle you need for the dry places (dry business, dry finances, dry marriage, dry relationship with God or men, etc.) of your life to become juicy again is embedded in the Word of God. Therefore, prophesy (speak) the Word to them, don't get tired of prophesying!
In the natural, farmers plant seeds and then continually water those seeds to ensure they get a bountiful harvest. When you continually prophesy to your situation, you are watering the seed of the Word you have already planted, and that is the guaranty for your harvest (miracle).
Interestingly, it didn't matter where a bone was in the valley, when the prophetic word went forth; it came and found its companion. No matter where your miracles are in this valley of earth, as you prophesy, they will come and find you in Jesus' name.
PHOTO SCRIPTURE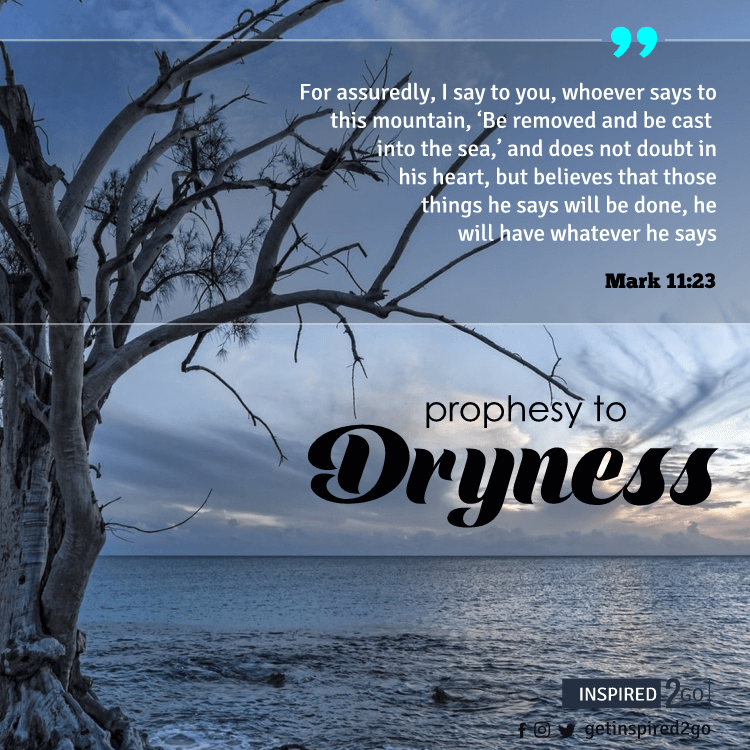 ADDITIONAL STUDY
Psalm 107:20, Mark 11:12-14, 20-23, & Isaiah 40:8.
TO DO
Prophesy using the Word over any area of your life that you are experiencing dryness. Declare that just as the scattered bones in Ezekiel's valley of dry bones were supernaturally connected to one another by the word of prophecy, so also will you be supernaturally connected to your miracles as you prophesy today.