All this has come upon us; but we have not forgotten You, nor have we dealt falsely with Your covenant.  Psalm 44:17
REFERENCE
Psalm 44:9-20
The Psalmist here recounts the many trials that the people of Israel had experienced – they suffered defeat in battle, having gone in without His presence, they were plundered by nations and were scattered as captives amongst the nations. Also, they were sold as slaves at meager prices, and they became a byword amongst the peoples; they became a pariah nation, bowing their heads in shame wherever they found themselves. All these are enough storms to sink anyone in despair.
Storms are often inevitable. Jesus said, "In this world you will have tribulations". When storms arise all around us, the objective is to get us discouraged and to take our eyes off God. It is to get us so overwhelmed that it eclipses the goodness of God in our lives. It doesn't mean that God is not good, it's just that the clouds of troubles often block the light of the sun of His goodness, and like every cloud, they soon pass and the sun rays shine through again. Yes, storms don't last.
Israel understood the big temptation that accompanies trials – 'Abandon faith!' 'God does not care!' 'Curse God and die!' They chose instead to keep God and His faithful dealings in mind. They remembered the covenant He cut with them. They refused for their hearts neither to turn back nor depart from His way. They made a DECISION to stand, even if the worst storm raged.
No matter what challenges you face – personal lack, afflictions, oppression and persecution by men, at no point should you forget God. Decide to make Him the constant in your life, in a world full of variables; He must be the anchor that holds your 'big ship' (your life) through the storms. At no point should you doubt His love for you or question His integrity; that's what the devil wants, and the plan is to keep you longer in the storm. That exactly was what happened to Israel in the wilderness – they were bitter and complained against God and for that reason, many died and their sojourn became longer. God has the power to eventually calm every storm. Christian maturity is manifested in the fact that our walk with God does not rise and fall with the sudden changes of life. Yes, storms may come, but by faith, we stand through the storm.
SCRIPTURE PHOTO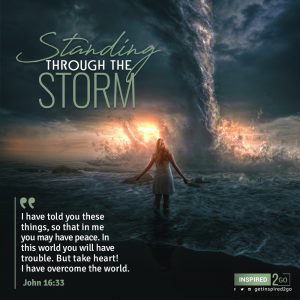 ADDITIONAL STUDY
John 16:33, Job 1:13-22; 2:7-10 & 42:12-17
PRAYER
+ Lord, help me to always be of good cheer when the storms of life hit me, knowing that I will always overcome with You on my side.
+ I receive grace not to grumble, complain or turn at God when facing storms; rather, I will turn to God and by faith stand through the storms in Jesus' name.