No longer do I call you servants, for a servant does not know what his master is doing; but I have called you friends, for all things that I heard from My Father I have made known to you. – John 15:15
REFERENCE
John 15:14-16
Jesus is the best leadership example there ever was or is. He called His followers (surbordinates) friends and commits into their hands everything He has and knows; by doing that, He brought them to the same level as He is and that did not reduce the fact that He is Jesus the Son of God – their boss, in Whose hands God puts all things. Rather He was so secure in His identity in God that He could lead by first serving.
As a servant-leader, Jesus focused on the well-being and growth of the ministry of the disciples. His dream was to see them excel and perform better than He did, hence His statement: "…greater works than (Mine) shall you do." (John 14:12).
We are all leaders in one capacity or another. To lead excellently, we should follow Jesus' leadership style as our example. First, let our identity in Christ be the basis of our security so we can freely serve the needs of our followers without inhibitions.
Again, let us commit our time and resources to the growth and development of our followers, so they can excel and bear much fruit – this will only add to our glory and not detract from it.
SCRIPTURE PHOTO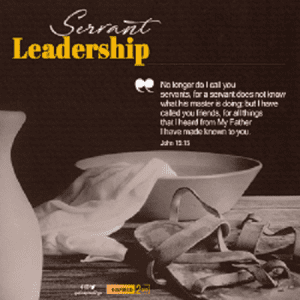 ADDITIONAL STUDY
Matthew 20:25-28 & John 13:3-5.
PRAYER
Pray that you will lead in your sphere of influence with the heart of a servant; that God will grant you the wisdom to train and develop those under your leadership, so they can reach maximum capacity.