The ways of right-living people glow with light;

 

the longer they live, the brighter they shine.

 Proverbs 4:18 (MSG)
REFERENCE
Proverbs 4:18 (MSG)
It is God's desire for every believer to get better the longer they live. In Deuteronomy 1:6, He expressed His dissatisfaction with the way His children lived in circles, dwelt too long in a particular station in life, and really never made any appreciable progress. To continually make progress in life, I believe, is also the desire of everyone. No right-thinking person would prefer stagnation or immobility to being stepped up. Thus, to step up is a goal we must constantly set before our eyes to achieve.
To step up means to move from a particular level to a higher one. It also means to raise something to a higher level or to improve the performance of something, either by adding or replacing certain components of the particular item. In the technological world today, we see advancements almost at the speed of sound with phones, computers and other electronic devices. Demands for better, more efficient and more user-friendly gadgets and apps are increasing, and the 'techies' are constantly stepping up their game to meet and surpass those demands in order for them to remain relevant in their field.
The same thing applies to us as individuals. To be relevant to your world you have to improve on yourself in order to increase your capacity and performance. Since it is God's will for you as a believer to continually improve and be better, you therefore must ask yourself "What can I add or replace in my life that would make me perform better? What practical steps can I take to step up?"
On His part, God is committed to seeing you improve and make progress; and He is available to give you the necessary wisdom and guidance you need. However, you have a part to play to see it happen. In John 9:1-7, when Jesus spat on the ground and made clay which He used to anoint the blind man's eyes, He told him to go and wash at the pool of Siloam; the blind man did and came back seeing. So, God needs your cooperation to move you to a higher level.
What price are you willing to pay to improve spiritually? Become more employable? Be more efficient in your work space? Touch more lives with the gifts God has deposited inside of you? Be more eligible for marriage? Or become a solution provider in your generation? These and many more questions should propel you to take a positive action towards stepping up. Remember, you can only function better and make more impact, only when you have been upgraded. So, step up your game!
PHOTO QUOTE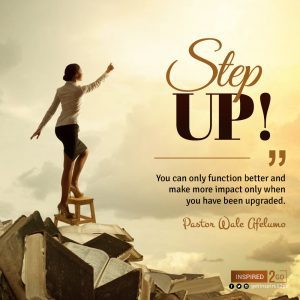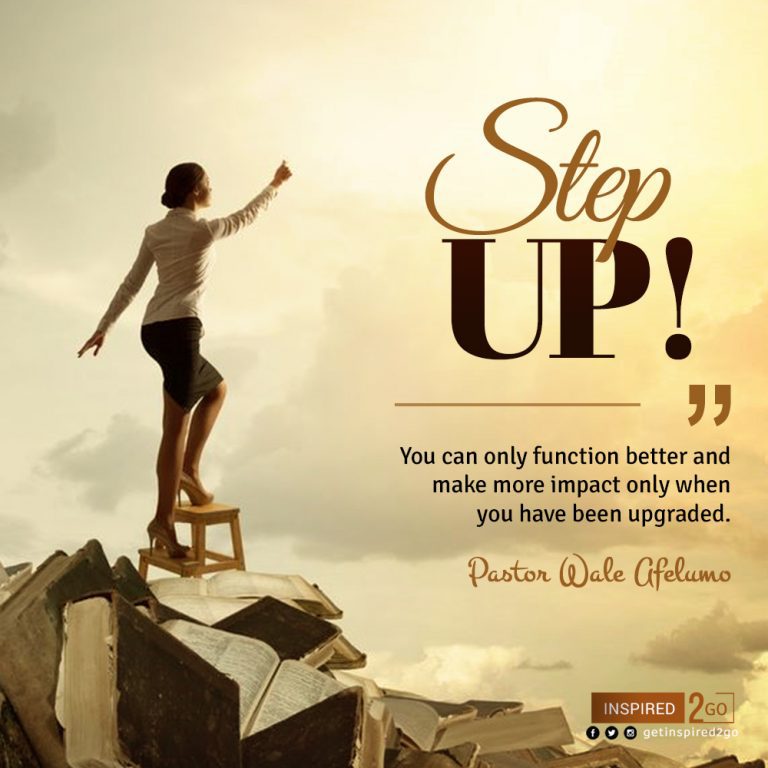 ADDITIONAL STUDY
2 Chronicles 26:14-15, Luke 5:37-39, & 2 Corinthians 3:18
TO DO
+. Reflect on the above questions and carefully write down practical steps you can take in different aspects of your life in order to improve and become better
+. Pray for the Holy Spirit's help to follow through with the things you have written down