The sick man answered Him, 'Sir, I have no man to put me into the pool when the water is stirred up; but while I am coming, another steps down before me.'  John 5:7 
REFERENCE
John 5:1-9
This man in our text has been left as last in the race to be healed. For 38 years, someone has always outsmarted him, outrun him, outperformed him and outwitted him. He must have felt like a failure and a good-for-nothing. He must have despaired of ever getting healed, because he was for once, confronted with his limited abilities, he stood no chance against his contemporaries; no wonder they were the first and he was apparently last.
We live in a world where only the first are celebrated, they have all the opportunities, all the favors, everybody wants to hire them, bless them and identify with them…but those who can't be first are left on the shelf of life with nobody wanting to help them, employ them or pay the price to purchase them…but God has a plan for the 2nd, 3rd, 7th, 15th, 30th, 100th, even the last! "For God does not call the qualified, He qualifies the called." Thus, God had his eyes on this man in our story, and had a plan to heal him that would not respect the natural order of 'effort equals results,' but will be after the divine order of 'God's help equals results.'
Don't be deceived by your disadvantages; you may not have any man who can act as a 'godfather' to move you further in life but you have 'God the Father' Who supersedes all men. We serve a God who has both a plan and a place for even the last. The world is yet to see you at your best. Take your eyes away from your weakness and away from your lack of human help. Fix your eyes on Jesus, the One who has the power to heal, promote, deliver, help, etc., those who in themselves cannot help themselves.
If we will always need a man to get ahead in life, some of us will be pathetic wrecks by now. But thankfully, Jesus knows you, where you are, what you are going through, what you need and He gets personally involved because you are involved. The world may call you last, but God will yet make a wonder out of your life in Jesus' name!
SCRIPTURE PHOTO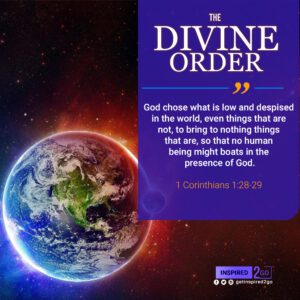 ADDITIONAL STUDY
Ecclesiastes 9:11, I Corinthians 1:27-29, & Matthew 20:6-16
PRAYER POINTS
+ Thank God for being a Father who has plans to bring you out of every helpless situation.
+ Declare that by the mercy of God, you will be uplifted from every disadvantaged position you have found yourself in life.