A new commandment I give to you, that you love one another; as I have loved you, that you also love one another. John 13:34
REFERENCE
John 13:34-35
Love is a commandment of God; it is not a weak word, it is a force – it melts the heart of an angry person; it has healed broken relationships, it has turned sinners into saints, it has caused wayward children to return home, it has caused wars to cease, people have been loved out of an addiction. Love has accepted the rejected and comforted the bereaved, it has clothed the naked and fed the hungry…No wonder the bible says, "Many waters cannot quench love, nor can the floods drown it…" (Song of Songs 8:7).
As Christians, we have experienced the transforming love of God and part of our mission on earth is to in turn share that love with others as His agents, authorized to act on His behalf. There is not a more appropriate time for us to show the love of God to others than now. True love as demonstrated by our Savior – Jesus Christ starts with giving sacrificially. A sacrifice means you are ready to give up something of value (money, time, comfort, etc.) for the sake of others.
Somebody once said that Christians show who they are by what they do with what they have. We are called to be God's stewards and everything we have has been given us by God as custodians to help Him disburse as He pleases; and remember, people are God's business, so we ought to disburse what God has given us to them. Therefore, let's look for practical ways to express the love of God to others today, e.g. buy groceries for a family, visit an orphanage with essential supplies, buy clothes for someone who needs them, buy toys for children whose families cannot afford them, etc.
I John 3:17 reveals that, we cannot shut up our bowels of mercy (our hearts) from a brother and claim that we love them, or we just say to them when they are in need, 'It is well' and we do not do all that is within our power to alleviate the problem, then we are not walking in love – for love is not just in talking, it is in doing.
Every sincere act of love points the beneficiaries to Jesus, and they will thank Him for sending you their way. Let someone experience the love of God through you today!
SCRIPTURE PHOTO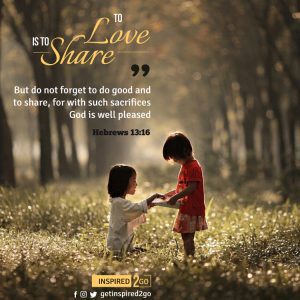 ADDITIONAL STUDY
Mark 2:1-12, Romans 12:10 & Hebrews 13:16 (NLT)
TO DO
Look around – within your family, circle of friends, neighborhood, school, church, organization etc., and share something valuable to be a blessing to someone/family who needs it