When the LORD saw her, He had compassion on her and said to her, 'Do not weep.'  Luke 7:13
REFERENCE
Luke 7:11-17
Jesus is our loving Savior who is touched by the things that cause pain and sorrow in our lives. As depicted in this story, He saw how crushed, hopeless and helpless this widow had become as a result of losing her only son – the only support she had as a widow. And so, He was moved with compassion to do something for her.
Probably because of the magnitude of her loss, she had so many sympathizers with her. If this event had taken place in Nigeria, all she would have heard that day would have been: 'eh yah, eh yah' and most of her sympathizers would have cried more than her. They would've beaten their chest in agony and thrown themselves on the floor. However, this woman needed more than an emotional display; she needed a drastic turn of events to change her story.
When Jesus appeared on the scene, He told her 'not to weep' because He came with the solution and not mere sympathy. By sheer compassion, He raised the dead man back to life, thereby, turning the widow's mourning into dancing! Likewise, today Jesus says to you, "Weep not." By His compassion you will experience healing in your body, see a financial breakthrough, come in contact with favor, receive restoration in your relationships, make progress, and see an all-round transformation in your life.
SCRIPTURE PHOTO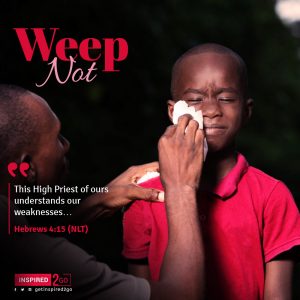 ADDITIONAL STUDY
Matthew 20:29-34, Mark 8:1-9, & Hebrews 4:15-16 (NLT)
PRAYER POINT
Ask for God's mercy and intervention where you have hitherto only known pain and sorrow, and thank Him because He will turn that sorrow into joy for you.