Beware, brethren, lest there be in any of you an evil heart of unbelief in departing from the living God; but exhort one another daily, while it is called "Today," lest any of you be hardened through the deceitfulness of sin.  Hebrews 3:12-13
REFERENCE
Hebrews 3:7-15
To exhort someone means to strongly urge, encourage, appeal or advise them to do or refrain from doing something.  Here, believers are admonished to daily exhort one another in order to avoid cracks that would lead to departing from the living God.
Satan's secret strategy against believers is the subtle deception of sin…a feeling that, "Well, I didn't commit a major sin, I only told a minor lie, or took a little something from the office that didn't belong to me – nobody will even miss it." Living with this mindset of 'just a minor sin' keeps believers in a place where they constantly err but not see the need to repent before God. As this continues, it stealthily leads to a hardened heart or a seared conscience, and it gives a false sense of security.
The world is filled with all kinds of pressures; the devil shoots different arrows at us just to corrupt our Christian testimony or get us to abandon our faith. We have different struggles and face several challenges as we walk with God. This is why it is important that we daily exhort our fellow brethren, lest we fall to Satan's deceptions and come under the bondage of sin again.
As we face the many onslaughts of the pressure of living in the 21st century, there are different ways we can exhort fellow believers. By:
Restoring those overtaking by sin to a state of harmony with God, in a spirit of gentleness.
Encouraging the weary and discouraged with the comfort and hope of the Scripture.
Regularly inviting and taking other believers along to church.
Sharing testimonies of God's grace to edify brethren who are having doubts.
Admonishing the idle amongst us to be gainfully engaged and strengthening the weak.
Remember that you often need encouragement yourself. I imagine that someone somewhere is at that point now – think. Does their name or face flash across your mind?
Don't wait another day, reach out to them now (with a visit, a call or a message) and exhort them!
SCRIPTURE PHOTO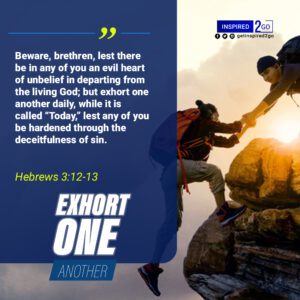 ADDITIONAL STUDY
Ecclesiastes 4:9-10, I Thessalonians 5:14 (ESV), & James 5:19-20

PRAYER POINTS
+ Pray that you will be divinely directed to meet someone you can encourage today.
+ Intercede for someone who is struggling in their walk with God.
+ Ask and receive the right people that will exhort you in your time of need