For I know that this will turn out for my deliverance through your prayer and the supply of the Spirit of Jesus Christ, according to my earnest expectation and hope that in nothing I shall be ashamed… Philippians 1:19-20
REFERENCE
Philippians 1:19-20
Paul shows us the secret of his joy in prison as he wrote the book of Philippians with many exhortations to be joyful and thankful. That secret is seen in our text – He had an 'earnest expectation.' He knew things would turn around in his favor, that things won't always be the same, and that what he was going through then was not his final chapter. He saw himself come out of prison and preach again.
Unfortunately, many believers live without expectations. We claim we have faith and trust God, but we really don't expect to see a difference in our situation. What we really have is hope, but hope is not expectation.
Hope usually expresses a belief in something distant. It expresses that something you want might happen. It has an element of chance in it. Expectation however is envisioning. It is the ability to foresee or look for what you believe. To consistently remain in a position and a posture to receive what you believe now. It is full of enthusiasm and fervor. It is like a basketballer who eagerly anticipates his team mate to pass the ball to him, he doesn't just fold his hands…he keeps his eyes open and his arms stretched out, knowing the ball could come at any time. The opposite of 'this' expectation is indifference, lack of concern or interest. Expectation is a force that even heaven cannot deny – the bible says, "…thine expectation SHALL NOT be cut off." (Proverbs 23:18 KJV).
The backbone of faith is expectation. It is what gives the necessary electrical charge to faith. It is a magnetic force that pulls what you desire to you from the realm of the spirit. That's why no preacher ever prays for someone's healing and says, "Hope to be healed!" No, he says, "Expect to be healed!" You don't have a right to anything you don't expect; and your blessings come in accordance to or in proportion to your expectation.
I know you have prayed, I know you trust in God's power to perform His word, but are you earnestly expecting to receive? How badly do you want it? You must be 'Expectation-Aggressive and Positive' – be decisive with your spiritual hands stretched out to always receive the things you believe God for; just like the basket baller or like a footballer in the 18-yard box expects to receive the ball.
PHOTO QUOTE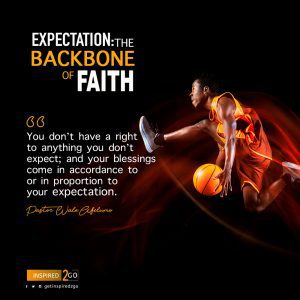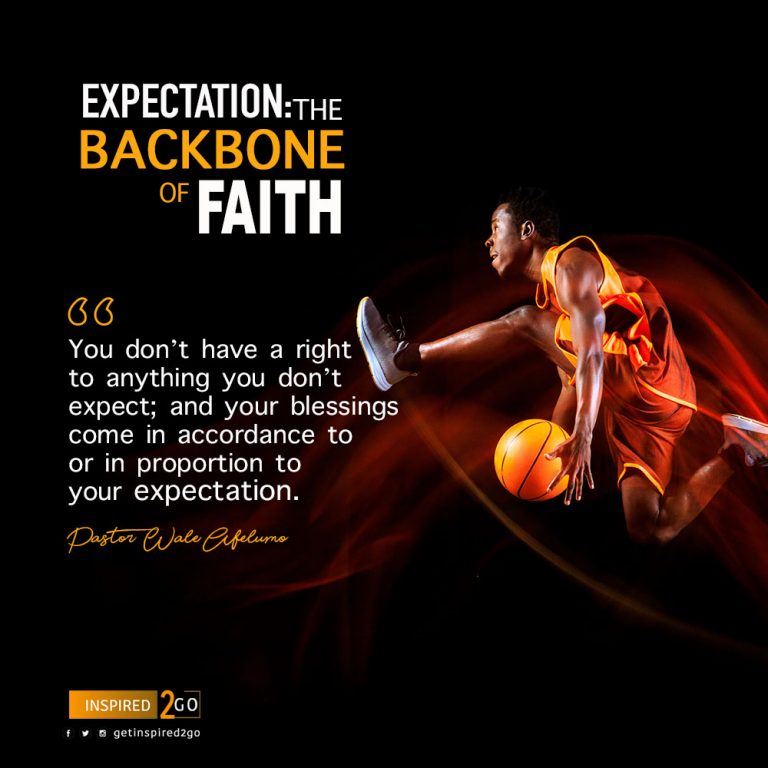 ADDITIONAL STUDY
Psalm 62:5-6, Acts 12:5-16, & Mark 5:25-29.
PRAYER POINTS
+ Pray that God will deliver you from self-doubt, unbelief, lack of expectation, worry and anxiety.
+ Declare your expectation – "I expect my miracle, my healing, my job, my spouse, promotion, etc. and I eagerly await them."