Hope deferred makes the heart sick, but when the desire comes, it is a tree of life. Proverbs 13:12
REFERENCE
Proverbs 13:12
Hope deferred for too long causes a lot of pain for the bearer; it keeps you going from expectation to expectation without getting the desired result. Every day, you hear and read that it is the will of God to give you the desires of your heart according to His will, yet it never seems to materialize. Gradually, the hope in your heart turns to frustration and discouragement, because your heart can't understand why it appears that God is hesitant to intervene in the matter.
Unrelenting disappointments (hope deferred) in certain areas of your life can so wear you out to a point where you are not willing to pray or keep your expectations alive. David got to this point of despair; he lamented, "I am weary with my crying…while I wait for my God," (Psalm 69:3). At such times, you are assailed by a series of temptations – the temptation to quit, to give up on your desire, to distrust the word of God, to become indifferent towards God, to backslide or to look for alternative ways to satisfy your desire your own way.
Any time you chose an ungodly alternative means to satisfy a desire, you sow to the wind, and it often results in a whirlwind, e.g. Abraham and Sarah with the issue of Ishmael; King Saul and his unlawful sacrifice; Esau and the sale of his birthright (See Genesis 16:1-6, I Samuel 13:5-14, Genesis 25:29-34). Surely, you will get a temporary satisfaction for your desire, but it comes back to haunt you.
Therefore, if you have done all you know to do according to the Word, and your situation doesn't change, you must keep standing and believing. It may not be easy or convenient, but, it will keep you sane as well as rooted in faith. Remember, God needs your faith in order to work miracles in your life (Matthew 13:58, Luke 18:7-8). Also, you must understand that not only is He God, He is also on your side. So you must trust His heart regardless of your situation.
Indeed, the heart gets sick when hope is deferred. Nevertheless, there is a 'But' in the text. "… but when the desire comes, it is a tree of life" in other words, 'when' not 'if' your desire finally comes, it will bring refreshing and true satisfaction – turn things around.  In spite of how long a matter has delayed in your life, your day of fulfillment will come, in Jesus name. So, you must continually tell yourself that you will see the goodness of God concerning that matter, in this land of the living…
PHOTO QUOTE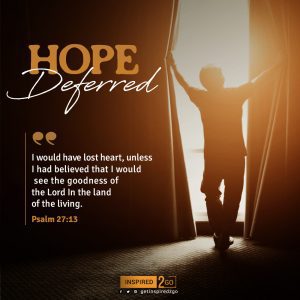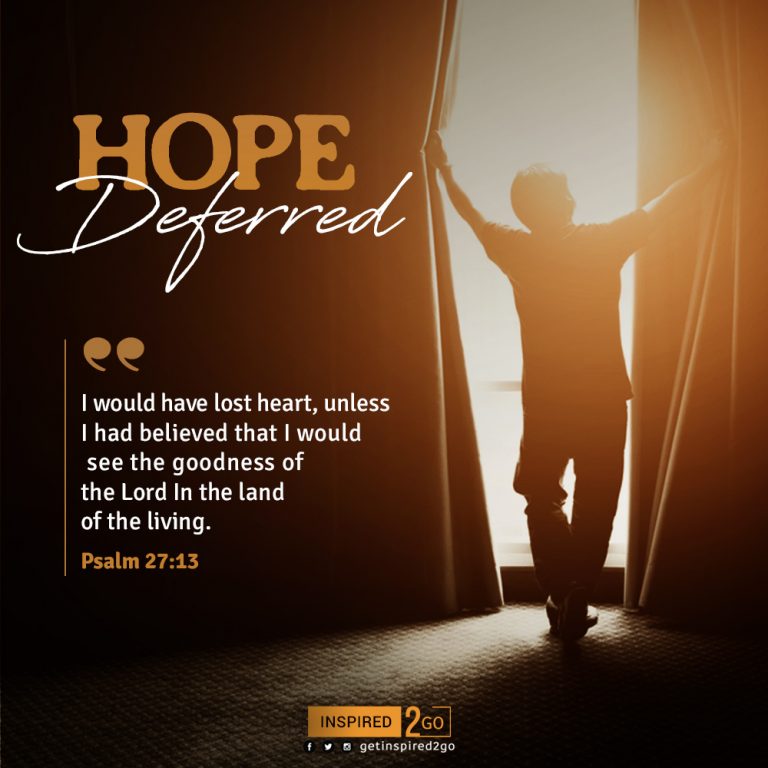 ADDITIONAL STUDY
Psalms 27:13-14 and Isaiah 30:18
PRAYER
+ Lord, give me the strength to resist the temptations that come with delayed expectations.
+ O Lord, I ask for the grace to trust your heart in all circumstances, as well as remain rooted in faith till I see Your goodness in the land of the living in Jesus' name.