O Lord, You are the portion of my inheritance and my cup; You maintain my lot. The lines have fallen to me in pleasant places; yes, I have a good inheritance. Psalm 16:5-6
REFERENCE
Psalm 16:1-6
Another portion that the lines 'enclosed' as part of our pleasant places (our inheritance) as believers is security and rest. We have a covenant of protection from God. Psalm 91 reveals this truth; it says, because we dwell in the secret place of God, He will hide us under His shadow, give us His refuge and be our fortress; He also will cover us with His feathers, and not permit any harm to touch us. This means, we are safe and secure in God and should expect to be exempted from the evil occurrences in the world.
This covenant of protection is what makes us dwell in peaceful habitations; it is what keeps our family members safe, it is what keeps our properties from being vandalized or destroyed, it is what keeps the devourer far from us, it is what puts our minds at rest even in restless situations, and it is what gives us the audacity to declare that 'there is nothing missing or broken in our lives because we are fortified by the Almighty.' All of these may seem far-fetched to some people, nonetheless, this is God's design for us and it is the truth. It is not just a promise, it is a covenant that God has entered into with us. Moses said about God in Psalm 90:1, "Lord, You have been our dwelling place in all generations. Before the mountains were brought forth. Or ever You had formed the earth and the world…" In other words, God Himself is our dwelling place, our eternal security from before time began.
Therefore, we must embrace and set our minds on this revelation as a 'positional truth' (where we presently stand in Christ). Acts 17:28 says, "In Him (i.e. God) we live and move and have our being." So, in the same way that nothing can touch a seed inside a fruit without first getting to the fruit, nothing can happen to us without first getting to God. And as the mother hen is a shield for her chicks, so our God spreads His wings over us. Have courage; you are in God, and what can't touch God can't touch you.
Be persuaded, God is your eternal security, release your faith in Him and be at rest. You need not fear the arrows that fly by day nor the terror of the night; enjoy divine 'all-round' protection and take hold of your privileges in Him. Remember, you are seated with Him in heavenly places…completely secure!
SCRIPTURE PHOTO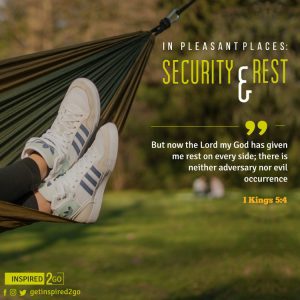 ADDITIONAL STUDY
Psalm 91:1-16, Isaiah 32:18, & I Kings 5:4
PRAYER
Lord I thank You for the gift of security and rest. I dwell in Your secret place and hide under your shadow; therefore no evil will touch me or any plague come near my dwelling. Because my life is hid in You, I am confident that I will be divinely protected all the days of my life in Jesus' name.