O Lord, You are the portion of my inheritance and my cup; You maintain my lot. The lines have fallen to me in pleasant places; yes, I have a good inheritance. Psalm 16:5-6
REFERENCE
According to our text, the Lord is the portion of our inheritance, and He has made the lines to fall for us in pleasant places; i.e. He has allotted to each of us all that we need to live well on earth. 'Wealth and riches' are part of the blessings that fell into our portion, as allotted to us by the Master Planners' pen.
Psalm 112:2-3 says, "…The generation of the upright will be blessed. Wealth and riches will be in his house…" Yes, as believers, 'wealth and riches' are our covenant right because God delights in our prosperity. Just like rich earthly parents go ahead to plan for the welfare of their children, by making provision for their needs, so has God gone ahead to make provision for us, so we can be richly furnished – living in abundance. There is no lack in God's economy; His signature is to work in abundance – He gives over and beyond to the person who is in, and walks in, covenant with Him, e.g. Abraham (Genesis 12:1-2).
No child whose parents are rich and responsible comes into the world thinking, "What will I eat today? How will my needs be met?" He/she can't be bothered with such things because they know their parents will provide for them. For instance, no Prince, a son of the Queen of England will ever be bothered with having his needs met, neither will he ever beg for bread because wealth and riches have already been laid up for him. Likewise, as the covenant child of Jehovah El Shaddai, you shouldn't live in lack or in anxiety on how to meet your needs because God's will for you is prosperity!
You may say, "If it is God's will for me to have wealth and riches, why am I still barely getting by and still struggling with lack?" You must realize that your experiences cannot negate the Word of God; His Word reveals that He has already given you everything that pertains to life and godliness and you must believe what His word says more than what your circumstances currently present. Poverty and lack came into the world as a result of the curse; but Jesus redeemed you from the curse of the Law so you can live in abundance (Galatians 3:13).
Begin to seek God for wisdom in the area of your finances. Change the way you think about wealth, don't make it an end in itself, rest in God and commit your life to Him. Let Him know He is your 'only' source and ask Him to bless the works of your hands. As you trust and rest in Him; He will lead you to the right people in the right place and at the right time. He will ensure that He supplies your 'need' according to His riches in glory by Christ Jesus. Don't despair; look at His care for the birds.
SCRIPTURE PHOTO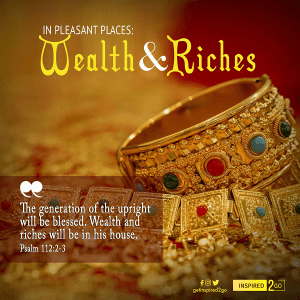 ADDITIONAL STUDY
Proverbs 13:22, Philippians 4:19, & II Peter 1:3
PRAYER POINTS
+ Thank God for furnishing you with wealth and riches, and for providing for you according to His riches in glory.
+ Come against everything that represents the curse of the law I your life; and declare that you have a blood bought right to walk in wealth and riches.