"Moreover. those who were near to them…were bringing food on donkeys and camels, on mules and oxen—provisions of flour and cakes of figs and cakes of raisins, wine and oil and oxen and sheep abundantly, for there was joy in Israel." ~ I Chronicles 12:40
REFERENCE
I Chronicles 12:38-40
Every vision needs provision to execute it. When a vision is starved of provision, it suffers malnutrition and in some cases, it is altogether abandoned. Many dreamers have remained just that, dreamers, because they lacked the resources to execute their dreams. It will shock you to know the number of projects, initiatives, businesses, inventions, ministries and industries that never took off or stayed 'afloat' as a result of little or no resources.
David was fortunate. He had partners in purpose who committed to supporting his vision and the 'machinery' needed to fulfill it. This last identified set of helpers brought food supplies to David and his huge army. Maintaining such an army with their families (I Samuel 30:1-3) must have been quite expensive for David's budding organization. Imagine what their feeding and welfare cost per day? Nevertheless, these sponsors did it abundantly. They likely said, "We can't fight, we can't wield a sword, neither can we give military strategies, but we will ensure that all that is needed to do all that is needed would be provided." And that they did cheerfully and abundantly.
It takes God to raise such people for your vision, especially in a world where people have been taken advantage of, where the love of money makes people do unthinkable things. They usually do not come by you coaxing them or sending them your bills; they are put off by people who put money first. They are called to sponsor 'God-sized' dreams. They are attracted to a definite call, proven record and good stewardship. Above all, when they find people who are credible, they extend and keep extending credit (cash-support) to them. They mostly don't do it for returns; they do it for results – just to see what God has said, fulfilled in the life of whom God has sent.
I truly pray that God will raise 'Partners in Purpose' CALLED TO SPONSOR you, to come and abundantly supply all you need to move to the 'throne' of God's plan for you.
SCRIPTURE PHOTO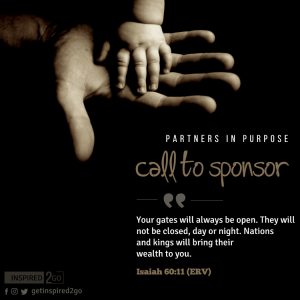 ADDITIONAL SCRIPTURES :
Luke 8:1-3, Matthew 2:1-2& 10-11 and Isaiah 60:5-18
TO DO
+  Look back at the different types of 'Partners in Purpose' we have spoken about, write them out and take time over this weekend to call them (in prayer) into your life.