And they rose at twilight to go to the camp of the Syrians; and when they had come to the outskirts of the Syrian camp, to their surprise no one was there. – II Kings 7:5
REFERENCE
II Kings 7:1-8
God never planned a day of defeat for you. He did not plan for you to always beg, lag behind in life, struggle to survive, or to be under Satan's oppression. You are blessed and not cursed because it is a pronouncement of God over you from the very beginning and the blessing is in your DNA. But why then are many 'blessed' people still walking in defeat? The answer is simple: 'ignorance and inactivity.'
Just like we read in the passage, after the Word of God comes, what is expected is that you believe and move! Elisha spoke but the special adviser to the king doubted (though he heard it with his physical ears). However, the four lepers, (though not physically there) heard the Word with their hearts/spirits and it provoked them to action.
These lepers were at the entrance of the gate – this suggests that you are always at the threshold of something great. I wonder what gate you are sitting at right now that you are not entering or what gate has been shut to you. Just a little push, knock or effort and you will enter into it. Also, when the lepers got tired of sitting at the gate, they moved.
Until you get tired of the status quo, you will not move. Something must burn you enough to make you get up and go…so don't pray for the fire around you to die right now, let it propel you to go! God does not sort out the Syrian soldiers first; instead, He gives you a word and stirs a discomfort in you. It is only after you move that He deals with the Syrians. So, that problem will most likely remain till you TAKE A STEP!
Take risks, try new things, refuse to be stagnant, talk to yourself, appraise your life, don't let life drag you along thoughtlessly; get involved in the outcome of your life. You won't know what you are capable of till you take that first step.
In Luke 15:18, the prodigal son said to himself, "I WILL ARISE…" and he arose – All he needed was that move. If he hadn't moved the father wouldn't have gone to meet him where he was. Before he even made much progress, the father reached out to him with the best robe, ring and fatted calf – Who would have thought that those things were waiting for him? Likewise, it's your move. Until you move, nothing moves. You must do it because nobody will do it for you.
PHOTO QUOTE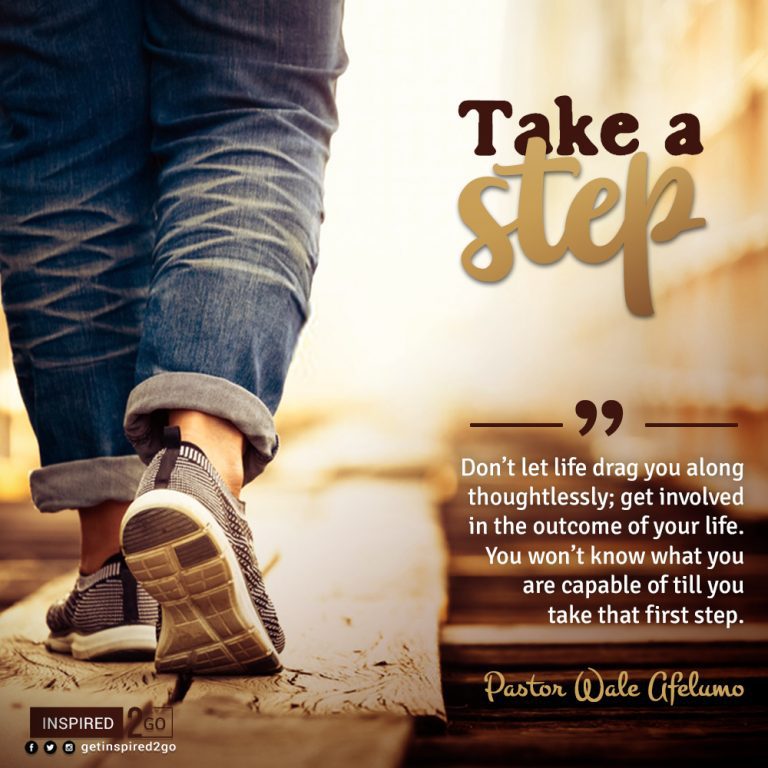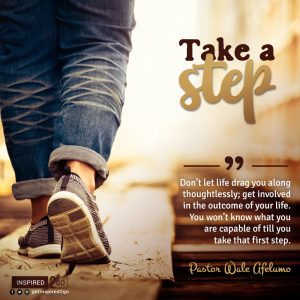 ADDITIONAL STUDY
Luke 15:11-23, Ecclesiastes 11:4 & Luke 11:9
PRAYER POINTS
+ Come against the spirit/attitude of inertia (inactivity, disinterest, apathy, inaction, lethargy) in your life. Ask God to help you overcome it.
+ Pray that God will begin to speak to people on your behalf and that as you move; He will set open doors before you.