And the Angel of the Lord appeared to him, and said to him, "The Lord is with you, you mighty man of valor!" Judges 6:12
REFERENCE
Judges 6:11-23
When the Angel of God met Gideon in this story, he was hiding in fear because of the enemy. Gideon had so much self-doubt that the Angel had to introduce him to himself; i.e. the real Gideon, the way God made him and saw him – a mighty man of valor who can save a nation, but who was in confinement because he lacked belief in himself.
Notice that God called Gideon "Mighty man of valor" before he could ever do anything great; and we saw how Gideon then went on to defeat the Midianites in later chapters of this book. This shows, all Gideon needed to unleash his potential, was to see himself the way God saw him.
What do you see when you look at yourself? Like Gideon, if God came to you today, what will He call you? If He calls you 'billionaire, evangelist to the nations, world changer, governor, minister, philanthropist, top designer,' etc., would you believe Him? Why not? Is your present situation dictating to you that you can't be any of these things? Often, we take on the shape of our environment and find our definition from our experiences and family background, and most times, these are contrary to how God sees us. However, God is not limited by all these and would often come to 'jailbreak' a man from his past experience, his environment or family limitation (as He did with Gideon) and make him a wonder to his world.
Bottom line is, as a believer you have God's DNA in you, so you can succeed at the things He has called you to do in spite of your present state. He wants to achieve greatness through you, yes you! But, will you allow Him introduce you to your real self not what your circumstances tell you? If you keep looking at the things you see around you, your thinking will be small and you will keep limiting yourself like Gideon did. But, when you look at yourself through the mirror of God's Word, you will see the potential that is locked inside you and the possibilities you can create in the world that would be eternally significant.
Break out from every limiting mindset, see yourself the way God sees you in His Word, and unleash His divine abilities in you. The world is waiting for you!
SCRIPTURE PHOTO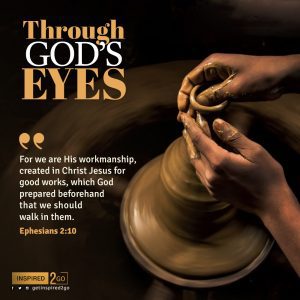 ADDITIONAL STUDY
Philippians 4:13, Romans 12:2, & Ephesians 2:10
PRAYER POINTS
+ Look at the areas where you have placed limitations in your life and begin to break the boundaries and command those walls to fall.
+ Make bold declarations about who you are and the possibilities that abound for you through the mirror of God's Word.